Copps in Grandview Commons finally approved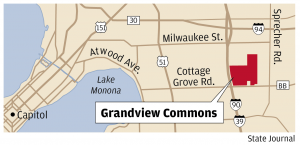 December 13, 2012 8:10 pm
•
More than two and a half years after it was first proposed, a Copps grocery store is a go.
The 18-1 approval on Tuesday by the City Council was preceded by months of debate, petitions, contentious meetings and volleys of emails among those for and against the project. The city's comprehensive plan was ultimately amended to allow for the 58,000-square-foot store, located in Grandview Commons, a Veridian Homes mixed-use project along Cottage Grove Road and on the east side of Interstate 39-90.
The Copps store will provide incentive for other smaller retailers and businesses to consider Grandview Commons.
"I think it will be extraordinarily positive," said Ald. Lauren Cnare, who voted for the project. "You need a certain critical mass in a development area to bring in customers and people to bring in those new businesses. No brand-new, local business is going to put itself way out in my district and hope for the best."
Copps had originally proposed a 62,000-square-foot store that fell within the limits of the city's big-box ordinance but above the comprehensive plan for the neighborhood, which has a 25,000-square-foot limit. That led to many residents in the neighborhood protesting the project, saying it would create too much traffic, jeopardize safety, increase noise, litter and odors and decrease the value of homes near the project.
Construction is scheduled to begin in the spring with completion set for spring of 2014.
"This grocery store is indeed a catalyst" to more development, Cnare said. "This grocery store will do that. I am fully convinced of that."
There are also plans for an additional 58,000 square feet of retail and a 24,000-square-foot public library in the development, which is also home to a Great Dane Brew Pub.
Copps, owned by Roundy's in Milwaukee, has 25 stores, including 11 in Dane County, not including the Grandview Commons store.